Double Maths Success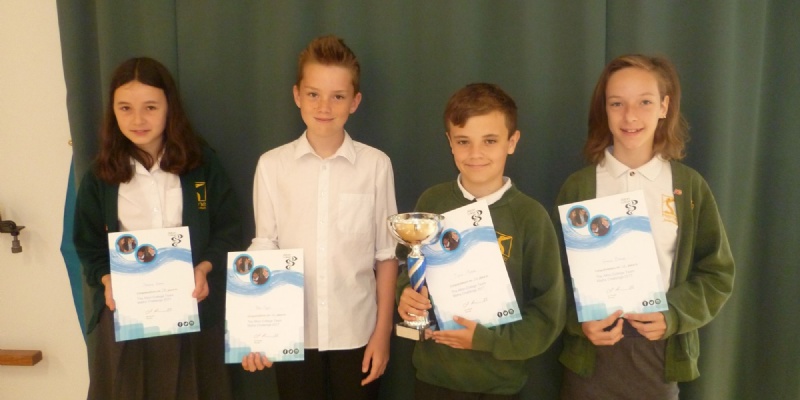 On Friday 27th we spent the day at Horndean Technology College. Why? We formed a team of 4 year 6s – Molly, Luna, Sid and Oscar – to take part in an annual maths competition. There were 9 other teams competing in the different maths challenges which included; the shuttle round, the relay round, the speed round and the group round. Speed and group both involved the whole team working together whereas the others involved splitting into two pairs. This meant one pair solved the first question and the second pair solved the next question. In the shuttle round this was tricky as there were four questions to solve in the eight minutes given and for the second question you needed the answer to the first. For example, the answer to question 1 was x and question 2 would be x/2+x/9+x/7=
In the end, with a mixture of our expert skills and speedy brains we came out second. This made us really proud because we were up against some tough competition.
By Sidney Brockwell and Luna
On Wednesday the 28th June, 2017, Herne competed and completed the Alton College Maths Challenge. A team of 4 mathematicians – Jamie Tickner, Gracie Bishop, Jemma Green and Ben Piper - set out with TPS ready for the adventure to begin…
Once we arrived, we split up into two teams, TPS and Herne – Primary and Secondary – this didn't last for long though, you had to change who was in your team almost every round. Overall there were three rounds, one was a group round, another was a number crossword and the last was an interactive one. After all of these challenges, we awaited the announcement, we could not believe our ears when they awarded Herne first place! In total 16 schools took part, and out of 16 our school won.
Surprise painted our faces as we got up to receive our reward, an astonishing trophy, Alton College badges and a certificate from the Mayor of Alton and the Principal. It was challenging, but most of all – fun, we are so glad that we attended this challenge.
Please enter some content for your news story here.